'Before the Flood' Film Screening and Panel Discussion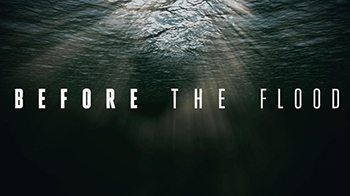 The LSE Department of Geography and Environment and the Grantham Research Institute on Climate Change and the Environment warmly invite you to this film screening and panel discussion
On the panel:
Prof Simon Dietz, Grantham Research Institute and Department of Geography and Environment, LSE
Dr Rebecca Elliott, Department of Sociology, LSE
Dr Michael Mason, Department of Geography and Environment, LSE
Bob Ward, Grantham Research Institute
"If you could know the truth about the threat of climate change — would you want to know? Before the Flood, presented by National Geographic, features Leonardo DiCaprio on a journey as a United Nations Messenger of Peace, travelling to five continents and the Arctic to witness climate change firsthand. He goes on expeditions with scientists uncovering the reality of climate change and meets with political leaders fighting against inaction. He also discovers a calculated disinformation campaign orchestrated by powerful special interests working to confuse the public about the urgency of the growing climate crisis. With unprecedented access to thought leaders around the world, DiCaprio searches for hope in a rising tide of catastrophic news."
Read more on the Before the Flood website.
Following the film screening, a panel of LSE experts will discuss the themes and ideas raised. There will be an opportunity for the audience to participate in a Q&A.
This event is free and open to all, however registration is required via Eventbrite*.
*Please note that registering does not guarantee you a seat. Admission will be on a first come, first served basis.