Transitioning to net zero in the Middle East and North Africa: three focus points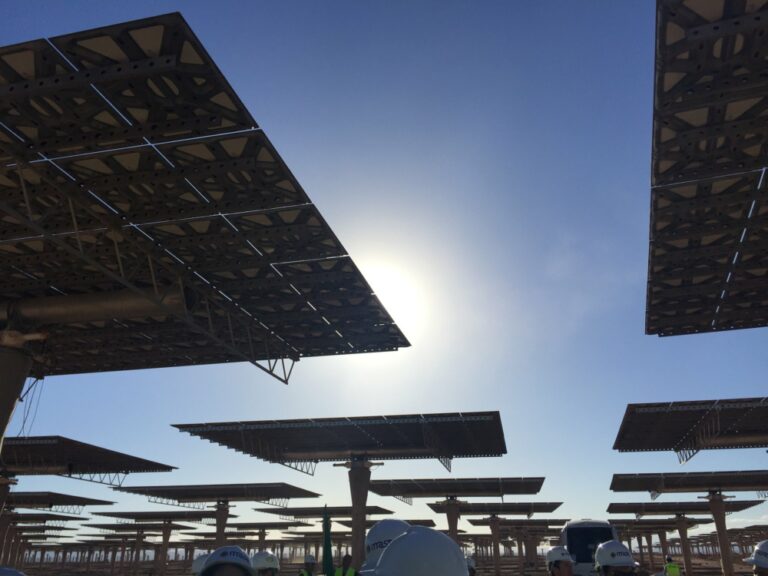 As Egypt readies itself to host COP27 and the UAE for COP28, Adithya Subramoni argues that the MENA region must recognise the social dimension in action on climate, emphasise affordability and accessibility in the drive towards renewables, and seize the potential for the transition to create a large number of good jobs.
Since the COP26 UN climate summit last November, many countries in the Middle East and North Africa (MENA) region have made commitments to promote a climate-friendly economy. The United Arab Emirates, Oman and Israel have committed to being net zero by 2050, while Saudi Arabia and Bahrain have announced a net zero target for 2060. Others in the region, including Egypt and Qatar, have updated their Nationally Determined Contributions (NDCs). As COP27 in Egypt approaches, to be followed by COP28 in the UAE in 2023, there is a clear sense that these two summits will echo the Global South perspectives on climate justice and loss and damage more strongly than was the case at COP26 in Glasgow. In this commentary I propose three further points that the participants at the forthcoming COP will need to keep in mind.
1. Working for a just transition
Firstly, discussions on the climate and environment must not be siloed but need to be seen in the context of 'people and transition': to plan and deliver a transition that is just, discussions need to be centred on its social impacts. This needs to be done through effective social dialogue with workers and other affected stakeholders. Delivering net zero targets requires specificity to local context and therefore proactive efforts to build an inclusive participatory process are key.
Research published on Morocco from as far back as 2005 has demonstrated that inputs from indigenous ecological knowledge and the effective participation of indigenous groups is necessary for successful development that is environmentally appropriate and socially just. Deviating from this path worsened desertification in Morocco and left its nomadic herding tribes worse off. More recently, the anti-fracking movement in Algeria criticised the government for socially marginalising those who live in the south of the country as fracking, which requires large quantities of water for drilling, risks aggravating water scarcity and affect the quality of life of those living close to fracking sites. This was part the wider Hirak mobilisations in 2020 that raised intersectional questions of environmental concerns, social justice and participative systems in the government's decision-making process, and ultimately resulted in President Bouteflika resigning. The demand for transparency and inclusive social participatory processes have continued to increase in the region since the Arab Spring. It is therefore vital that governments include social dialogue and build a participatory approach to the low-carbon transition, or they risk political instability.
2. Meeting energy demand affordably
Urgent action is necessary to meet increasingly ambitious renewable energy targets, and this must keep a focus on affordability and accessibility. For instance, the Egyptian government set targets for renewable energy to constitute 20% of the electricity mix by 2022 and 42% by 2035. However, in 2021 renewable energy (including hydropower, wind, solar and other renewables) contributed just over 6%. Big strides must therefore be made if these targets are to be met. By another estimate, approximately 8.8% of Egyptian households are in fuel poverty. Providing affordable, clean energy to these 9 million households will be vital to deliver climate targets in a socially inclusive manner.
Emerging examples of working towards a more inclusive transition in the region include Jordan's net metering system, which is funded through the country's Renewable Energy and Energy Efficiency Fund. Under this programme, Jordan gives loans to small consumers in rural communities (each with monthly electricity consumption of less than 600 KWh) to install a household solar PV system, which then saves them paying electricity bills. Another example is Morocco's fossil fuel subsidy reform to maintain subsidies that particularly benefitted poor and rural communities while reducing support for fossil fuels and reinvesting these savings in renewable energy projects that create sustainable jobs.
3. Economic diversification among the Middle East's oil-producing nations
Finally, to meet net zero commitments, it is critical for countries who are members of the Gulf Cooperation Council (GCC: UAE, Bahrain, Saudi Arabia, Oman, Qatar and Kuwait) to achieve their economic diversification goals. GCC countries like Saudi Arabia are talking about using offsetting measures like carbon capture while increasing their oil production for exports as being an acceptable pathway to limiting emissions. This plan hinges on the rest of the world's continued use of oil, and the ability of oil exporters to capitalise on oil price hikes to subsequently finance the energy and economic diversification of GCC countries.
Instead, the GCC should be shifting to renewables now. This is arguably so for three reasons:
There is a short opportunity window available for the GCC countries to leapfrog into export-oriented industrialisation for renewables. The momentum for renewable energy exports from the region is already on the rise. For example, Octopus Energy is building an underwater cable from Morocco to the UK so the latter can buy the African country's solar-generated energy. Now is the time to innovate delivery methods and invest in export-oriented renewable energy production throughout the region.
Current oil prices have put the GCC states on track to reap $1.3 trillion based on an IMF estimate, which will in turn boost the firepower of their sovereign wealth funds. In addition to this, global asset managers have identified the Gulf as a 'rare source of spare capital' in a global market otherwise affected by the war in Ukraine, COVID-19 lockdowns and inflation. The UAE specifically has been identified as a launch pad for fundraising across the region. The capital inflows provide an ideal environment for coordinating government energy and resources into capitalising on the transition now.
Investment in renewables has massive job creation effects. IRENA recently found that the number of people either directly or indirectly employed in the renewable energy sector grew from 12 million in 2020 to 12.7 million in 2021. This addition of 700,000 jobs happened despite the lingering effects of COVID-19 and the energy crisis. Regionally, in the case of Morocco, renewable energy is expected to create up to half a million jobs by 2040.
A prime consideration for the GCC countries and the UAE in particular is how to define 'vulnerable populations' in the context of climate policies. The UAE is an economy with a unique demographic mix where out of the approximately 10 million population, almost over 80% are immigrants, mostly from South Asia. Including expatriates in stakeholder groups of workers, communities, suppliers and consumers will be especially crucial in determining the inclusivity of the transition because mortality associated with high temperatures in the Gulf States has been shown to vary by nationality. For instance, research has demonstrated that in Kuwait, non-Kuwaiti males in the working age group are vulnerable to hot temperatures with double to triple the risk of mortality compared with Kuwaiti nationals. Thus, while building sectoral decarbonising pathways it will be vital for the GCC countries to also provide social safety nets and participative processes that include expatriate workers.
Taking these issues forward at COP27
Since the Egypt COP is expected to be focused on implementation, it is vital that participants and spectators alike hold the conference accountable to high standards of social participation because, fundamentally, the transition needs to work for people and the environment. As the theme of COP27 rightly identifies, 'making finance flows a reality' is an urgent priority, but it is vital that the finance flows are engineered to deliver a just transition. There are resources, now all that remains is for us to make it happen.
The views in the commentary are those of the author and do not necessarily reflect those of the Grantham Research Institute.
Further work in this area by the Grantham Research Institute includes: