Applications for our world-leading MSc and MPhil/PhD programmes are open. Programmes start September 2018.
The LSE's Graduate Admissions Office's (virtual) doors are open; you can now submit your applications online for our Taught Postgraduate and Research programmes.
Taught Postgraduate
Our Taught Postgraduate programmes strike the perfect balance between instruction and independent research, and provide our students with the skills, knowledge and training needed to excel in a wide range of careers, as well as in further graduate study in philosophy. Whether you've already studied philosophy and want to focus on a particular area in greater depth or whether you're looking to develop and apply newfound philosophical scrutiny to your expertise in another subject, our MSc programmes are the ideal choice.
Find out more about taught postgraduate study in the Department in our graduate webinar: Should I do the master's degree, with Dr Bryan W. Roberts.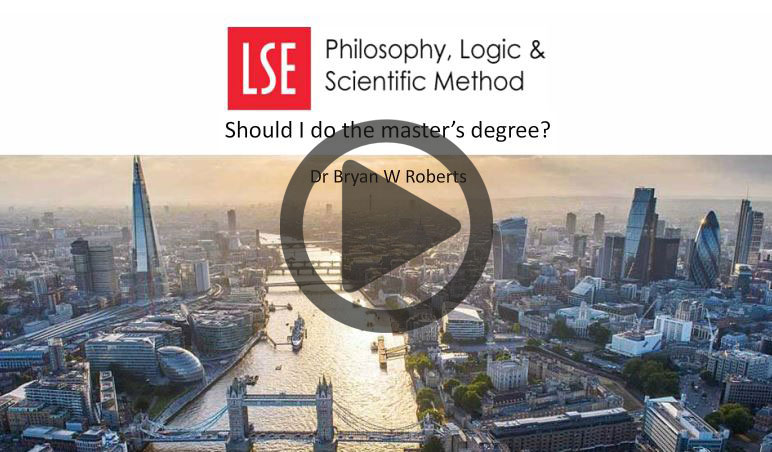 We have the following MSc programmes on offer for 2017/8:
MSc Economics & Philosophy
The MSc in Economics & Philosophy is taught jointly by the Department of Economics and by the Department of Philosophy, Logic and Scientific Method. This programme offers a unique combination of rigorous training in economics together with the opportunity to engage with moral, methodological and foundational questions, and enjoys an extremely high graduate placement rate. We take philosophical analysis to be continuous with scientific approaches to political, social and economic problems, and all philosophy staff have a strong background in interdisciplinary work and in areas of social or natural science.
MSc Philosophy & Public Policy
The MSc in Philosophy & Public Policy provides a foundation in the conceptual and normative questions underlying public policy formulation and prepares students for policy-oriented careers in intergovernmental, governmental and non-governmental organisations as well as for PhD work in philosophy or related disciplines. This MSc approaches philosophical issues in public policy through the lenses of historical and contemporary developments in ethical theory and political philosophy and its topics span an enormous range of policy areas, such as health care, development, social security and climate change.
MSc Philosophy of Science
The LSE Department of Philosophy, Logic and Scientific Method is a historic and world-class centre for philosophy of science. Having been home to the influential philosophers of science Karl Popper and Imre Lakatos and still bustling with cutting edge research, LSE is the ideal place to do an MSc in Philosophy of Science. Our distinctive approach to philosophy of science is really continuous with the sciences. On this programme you will learn to reason with a kind of philosophical rigour that makes essential use of scientific tools such as modern logic and probability theory.
MSc Philosophy of the Social Sciences
With LSE widely recognised as the world's leading specialist social science university, the MSc in Philosophy of Social Sciences is the ideal degree with which to pursue questions about human societies, and to apply philosophical reasoning to understanding the nature of the social sciences themselves. LSE is consistently ranked as the world's leading university for graduate study in philosophy of social sciences and on this programme you'll get the chance to work with some of the world's top researchers in philosophy of the social sciences as well as some of the world's top social scientists themselves.
Research
MPhil/PhD in Philosophy
The Department of Philosophy, Logic and Scientific Method is consistently ranked among the top institutions in the world for the graduate study of Philosophy of Science, for Decision, Rational Choice and Game Theory, and for Moral and Political Philosophy. If you already hold a master's degree in philosophy and your ambition is to pursue research — and possibly an eventual academic career in these or related fields — then you should consider applying to one of our MPhil/PhD in Philosophy.
MPhil/PhD Philosophy of the Social Sciences
Last but not least, for those with a special interest in pursuing coursework in social sciences methodology, including quantitative, regression and multivariate analysis, we have a dedicated MPhil/PhD in Philosophy of the Social Sciences.