Countries around the world are moving towards Universal Health Coverage. Along the way, they face difficult choices. For the past three years, LSE Philosopher Alex Voorhoeve has been part of a World Health Organization consultative group offering guidance on how to make these choices fairly.
Publications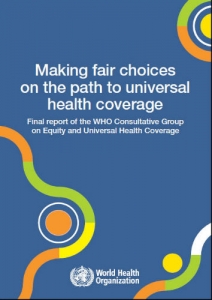 The group's report, Making fair choices on the path to universal health coverage, was published in May 2014.
Director-General of the WHO, Dr Margaret Chan, wrote an editorial piece on the report in Health  Systems & Reform, Volume 2, Issue 1, 2016.
The report was featured in an Editorial in the Bulletin of the World Health Organisation (2014) 92: 389.
The report was also Reviewed in Salute Internationale.info, June 18, 2014.
Presentations
The report was launched at LSE on 1 May 2014. The launch featured responses from leading academics and the Director-General of the Ethiopian Ministry of Health. Further details here.
The report's recommendations have also formed the basis of a number of other presentations at academic and governmental institutions around the world:
Political impact of the report
Media and Press
Members of the WHO Consultative Group:
Trygve Ottersen,* Ole F Norheim,*
Bona M Chitah, Richard Cookson, Norman Daniels, Frehiwot B Defaye, Nir Eyal, Walter Flores, Axel Gosseries, Daniel Hausman, Samia A Hurst, Lydia Kapiriri, Toby Ord, Shlomi Segall, Gita Sen, Alex Voorhoeve, Daniel Wikler, Alicia E Yamin
WHO staff:
Tessa T T Edejer, Andreas Reis, Ritu Sadana, Carla Saenz
* Lead authors