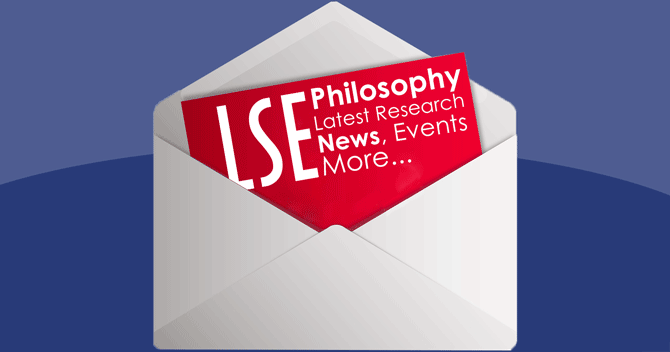 Choose from the subscription options below. You can come back and sign up for as many subscriptions as you like.
Regular Updates
LSE Philosophy Blog, News, Events – Subscribe RSS
Updates on any of the three categories that you wish to sign up for. The blog offers accessible coverage for general public and academic readers on the latest ideas coming out of LSE Philosophy. The events feed will subscribe you to all the forthcoming events for both the Department of Philosophy, Logic and Scientific Method and the CPNSS. The News option offers you, well … news.
CPNSS Mailing List – Subscribe
Mailing list for updates from the Centre for Philosophy of Natural and Social Science.
Specific Events and Research Group Email Lists
Our research groups hold specific events and often have special email lists.
Wednesday evening meetings on rational decision making in individuals and groups and its application to economic, political and social questions.
Publicly accessible lectures on philosophy by European thinkers. Sign up to the Forum Email List or follow the Forum Events link or RSS Feed.
Tuesday afternoon lecture series originally convened by Karl Popper and Imre Lakatos. Held roughly once each month during regular term time.
Lectures by philosophers, physicists, and mathematicians who meet on Monday afternoons at LSE to discuss the foundations of modern physics.