Lakatos Award Lecture by Catarina Dutilh Novaes
Event Navigation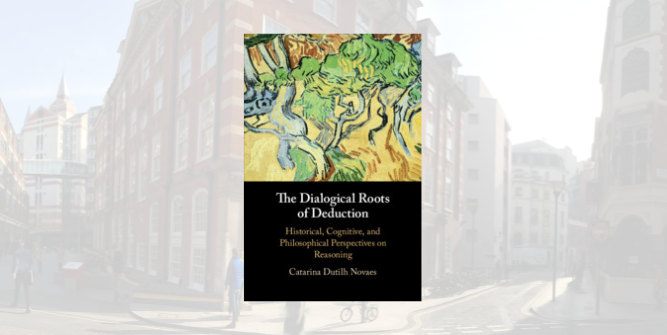 Join us as Catarina Dutilh Novaes gives a public lecture on her Lakatos Award winning book, The Dialogical Roots of Deduction.
When and where
Tuesday, 2 May, 6.00pm-7.15pm, Hong Kong Theatre, Clement House , LSE Campus
The event is free and open to all! Link to the YouTube Live Stream.
Speaker and chair
Catarina Dutilh Novaes (@cdutilhnovaes) is Professor of Philosophy and University Research Chair at VU Amsterdam, and Professorial Fellow at Arché, University of St. Andrews. She is currently (2018-2024) leading the ERC-funded project 'The Social Epistemology of Argumentation'. She is known for her research on the history and philosophy of logic, philosophy of mathematics, social epistemology, reasoning and cognition, and argumentation theory. In 2022, she won the Lakatos Award for her book The Dialogical Roots of Deduction.
Hasok Chang is chair of the Lakatos Award Committee. He is Hans Rausing Professor of History and Philosophy of Science at the University of Cambridge. He is the co-founder of the Society for Philosophy of Science in Practice (SPSP), and also the Committee for Integrated History and Philosophy of Science. He served as the President of the British Society for the History of Science from 2012 to 2014.
More about this event
The Lakatos Award is given annually for an outstanding contribution to the philosophy of science, widely interpreted, in the form of a book published in English during the current year or the previous five years.
The Centre for Philosophy of Natural and Social Science (@LSEPhilosophy) promotes research into philosophical, methodological and foundational questions arising in the natural and the social sciences.
About the book
The Dialogical Roots of Deduction is praised by the Selectors as a "masterwork" that is "absolutely fascinating" and in which "we have a breath-taking amount of knowledge revealed": "the knowledge is breath-taking, the argument original, and the whole is an intellectual feat". The book "develops a coherent, compelling and broadly articulated account of large parts of human reasoning that has wide relevance to understanding science as a particular development of human reason." The book offers a "very intriguing, erudite, and potentially highly productive argument, namely that deduction is fundamentally a dialogical and collaborative phenomenon, and hence is not the outcome of individual activities based on rules or logic with reasoners in competition with each other, but instead should be viewed as a social activity." In making this point, "the book clearly makes a very important contribution to our understandings of logic and mathematical reasoning".
Twitter Hashtag for this event: #LSELakatosAward