Key details
Online Certificate Course

Online

8 weeks

6-8 hours per week

Department of Psychological and Behavioural Science
The impact on culture and employee experience has been well-documented: studies show that poorly executed DEI initiatives result in a 78 per cent decrease in staff engagement. As rapid change continues to upend the world of work, organisations owe it to themselves to ensure inclusive efforts are realised, or risk losing employees. The business case for diversity, equity, and inclusion (DEI) is stronger than ever. Today, 90 per cent of organisations report DEI initiatives, yet as many as a third of them don't take a strategic approach to following through on these programmes.
Led by Dr Grace Lordan, founder of The Inclusion Initiative (TII), this course is designed to help leaders develop a culture of inclusion, ensuring that all voices are given a platform to collaborate while opening new pathways for innovation. Over eight weeks, you'll uncover tools and strategies to overcome barriers to inclusion through the lens of behavioural science. Create real, tangible solutions to entrenched bias and prejudice, and become an inclusive leader who ultimately builds inclusive teams and spaces where all employees feel accepted, valued, and heard.
Leverage insights based on behavioural science to design effective solutions for a more inclusive organisation
Use real-world experiences to learn how to identify diversity and inclusion issues in the workplace
Develop interventions to improve inclusiveness in search and hiring, enhance collaboration, curtail behavioural risk, and ensure inclusive opportunities
Gain the tools to assess and evaluate the effectiveness of DEI initiatives within your organisation, as well as calculate the ROI of these initiatives
This online certificate course is 8 weeks (excluding orientation week) with a time commitment of 6-8 hours per week.
Managers who are ready to create a culture of inclusion using science-based leadership approaches
Those in human resources, DEI, or talent management who would like to promote inclusive practices, equal opportunities, and fair treatment for all employees
"This has been by far the best course I've followed recently. It has really transformed my understanding of an inclusive leader and inclusion in general. I am excited to put into practice and see the impact of the techniques and insights I've gained from behavioural scientists, experts from various industries, and classmates with very diverse backgrounds and experience."
LSE Online builds on our 125 year tradition of exploring the interconnected, multidisciplinary nature of our world that shape society and business globally. Since our inception in 1895, LSE has been a pioneer in providing courses for professional development. Our founding commitment is to understand the causes of things for the betterment of society. Never has this been a more important goal than in these times of unparalleled change. We provide you with the insights and skills to think critically and independently. To make the connections, see the greater picture. To shape the future by understanding today. Whatever stage you are in your life and career. Wherever you are in the world.
The design of this online certificate course is guided by LSE faculty, as well as industry experts, who will share their experience and in-depth knowledge with you throughout the course.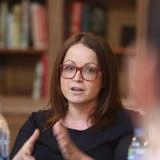 Dr Grace Lordan
Founding Director of The Inclusion Initiative (TII) and Associate Professor in the Department of Psychological and Behavioural Science
The Department of Psychological & Behavioural Science (PBS) is a growing community of researchers, intellectuals, and students who investigate the human mind and behaviour in a societal context. The department conducts cutting-edge psychological and behavioural research that is both based in and applied to the real world.
Fees and entry requirements
Tuition fees: £2,200
Upon successful completion of the course, you will receive an LSE certificate of competence.
Entry requirements
There are no prerequisites for this course.