Key details
Online Certificate Course

Online

8 weeks

7-10 hours per week

Department of Statistics
It has been estimated that organisations experience a 5% increase in productivity and become 6% more profitable than their competitors when they lead with data-driven business decisions.*

As the world becomes ever more data-driven, analytical skills are in high demand but very short supply. This eight-week Data Analysis for Management course equips you with the skills to give your organisation a competitive advantage in any industry by using data to make decisions, extract business insights, and predict future trends.
Guided by LSE experts, this eight-week online course provides you with the theoretical knowledge and practical skills to understand, interpret and communicate data relevant to your role and organisation. You'll learn to use Tableau - the industry standard software used worldwide - to visualise and report on specific insights extracted from data sets.
You'll also complete a capstone project, demonstrating your ability to assess, summarise, and report on data-driven insights, and earn a certificate from the LSE to validate your newfound data analytics skills.
*Harvard Business Review
Gain data analysis skills that you can directly apply in your role and organisation, and develop an understanding of how data-driven models can improve your ability to make smarter, more impactful decisions in a fast-paced and uncertain world
Learn to assess the reliability of data, extract strategic business insights, and use modelling to predict future trends
Develop data visualisation skills with which to clearly communicate your findings to all stakeholders
Complete a capstone project to demonstrate your ability to apply your learning and leverage data for insights to inform business strategy and gain a competitive advantage
This online certificate course is 8 weeks (excluding orientation week) with a time commitment of 7 - 10 hours per week.
Professionals interested in enhancing their qualitative skills and awareness related to corporate decision-making
Professionals from a variety of different sectors – including marketing, financial services, project management, and information technology
Those wanting to learn to analyse and interpret data using Tableau, the data visualisation and business intelligence software used as an industry standard worldwide
"The content was relevant to my role and up to date with current worldwide events. The delivery was provided with expertise and enthusiasm, and the learning environment was designed with me (the apprehensive student) in mind. After taking this course, I feel considerably more confident in how I approach certain data-related challenges and I am keen to apply my new knowledge in a real-world work setting."
LSE Online builds on our 125 year tradition of exploring the interconnected, multidisciplinary nature of our world that shape society and business globally. Since our inception in 1895, LSE has been a pioneer in providing courses for professional development. Our founding commitment is to understand the causes of things for the betterment of society. Never has this been a more important goal than in these times of unparalleled change. We provide you with the insights and skills to think critically and independently. To make the connections, see the greater picture. To shape the future by understanding today. Whatever stage you are in your life and career. Wherever you are in the world.
The design of this online certificate course is guided by LSE faculty, as well as industry experts, who will share their experience and in-depth knowledge with you throughout the course.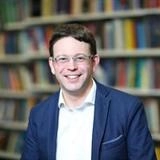 Dr James Abdey
Associate Professorial Lecturer of Statistics
The Department of Statistics at LSE is home to internationally respected experts in statistics and data science. Maintaining and advancing our leading reputation for teaching and research is our top priority. The department offers a vibrant research environment with specialisms in four main areas: data science, probability in finance and insurance, social statistics, and time series and statistical learning.
Fees and entry requirements
Tuition fees: £1,500
Upon successful completion of the course, you will receive an LSE certificate of competence.
Entry requirements
There are no formal prerequisites for this course, but some numerical literacy is advantageous, as well as basic working knowledge of Microsoft Excel.
Students will need access to a computer with the system requirements necessary to download and operate Tableau. You will be granted a student license to download and use Tableau free of charge for the duration of the course.