Key details
Online Certificate Course

Online

8 weeks

6-8 hours per week

Department of Management
Industries are led by organisations that know how to harness innovation to win and sustain a competitive advantage. Those that lack a consistent approach to innovation often fall behind. Whether responding to pandemics such as COVID-19, technological change or customers' growing concerns for the environment, systematic innovation management proves invaluable.
The Competitive Strategy and Innovation online certificate empowers strategic leaders to make informed decisions about fostering and resourcing the right innovations for the most positive business impact, and is relevant for all professionals impacted by disruption.
Over eight weeks, the course teaches you to identify and leverage existing resources in your organisation to set your business apart. By adopting a resource-based view, you'll approach innovation through a practical lens as you identify your business's unique capabilities and analyse how your current assets can be used to your competitive advantage.
Through a combination of problem-based learning scenarios and authentic case studies, the course will teach you underlying principles of competitive strategy, but also how to translate them into action. You'll discover frameworks that can be used to evaluate your existing resources, stimulate and manage innovation, and build a long-term competitive strategy. The course also illustrates several practical examples of innovation in response to the COVID-19 disruption. Using tools such as design thinking, blue ocean strategy, and customer journey mapping, you'll be better equipped to drive your business forward in the face of uncertainty.
Rethink core business strategies based on your organisation's resources and your position in the market
Benchmark your business against competitors and respond to disruption and competition strategically
Define what makes your business unique and learn how to protect and bolster it
Explore design thinking as a strategy to foster consistent innovation in your organisation
Learn to use blue ocean strategy to enhance your competitive positioning
Harness customer journey mapping to build customer centric products and experiences
Draft a strategic innovation plan for an organisation of your choice
This online certificate course is 8 weeks (excluding orientation week) with a time commitment of 6 - 8 hours per week.
Professionals, from any industry, looking to become more resilient in the face of disruption
Business leaders who want to help their organisations become agile and turn them into a vehicle for innovation
Consultants and entrepreneurs who are looking for insights on competitive strategy
"Not only have I learned a lot of new concepts, but I have also been able to put them into practice to build a compelling competitive strategy for my organization. This is exactly what I was looking for when I signed up for the course and I could not believe that an online course could provide so much value in such a limited period of time."
LSE Online builds on our 125 year tradition of exploring the interconnected, multidisciplinary nature of our world that shape society and business globally. Since our inception in 1895, LSE has been a pioneer in providing courses for professional development. Our founding commitment is to understand the causes of things for the betterment of society. Never has this been a more important goal than in these times of unparalleled change. We provide you with the insights and skills to think critically and independently. To make the connections, see the greater picture. To shape the future by understanding today. Whatever stage you are in your life and career. Wherever you are in the world.
The design of this online certificate course is guided by LSE faculty, as well as industry experts, who will share their experience and in-depth knowledge with you throughout the course.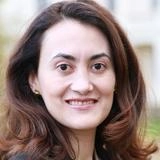 Dr Lourdes Sosa
Associate Professor of Management
The Department of Management at LSE is a world-class centre for research and education in business and management, that draws fully on the LSE tradition of inter-disciplinary academic excellence. Ranked #5 worldwide for social sciences and management by the QS World University Rankings (2023) and #2 in the UK by percentage of overall four and three star in the most recent Research Excellence Framework (REF 2021), the department informs and inspires the very best in management in practice by challenging and enhancing understanding of people, teams, organisations and markets, as well as the economic, psychological, social, political and technological contexts in which they operate worldwide. 
Fees and entry requirements
Tuition fees: £2,200
Upon successful completion of the course, you will receive an LSE certificate of competence.
Entry requirements
There are no prerequisites for this course.