Zurich Flood Resilience Alliance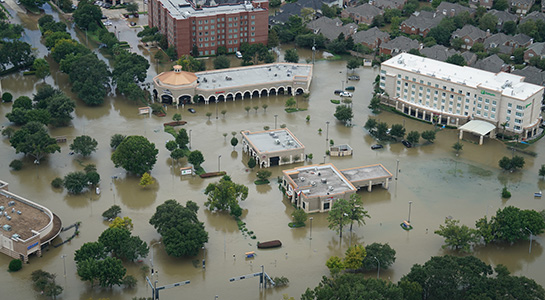 Since 2018, the Grantham Research Institute on Climate Change and the Environment is collaborating with the Zurich Flood Resilience Alliance as a research partner.
Under the Alliance grant, Dr Surminski has established a new urban flood resilience research group which aims to explore new approaches to convert post-event focused risk governance into more effective pre-event resilience through research-based evidence gathering on incentives, investments, and risk governance, with a particular focus on the OECD urban context.
The research team:
Sara Mehryar joined the project since October 2018 as a research officer focusing on flood risk governance and resilience decision-making in the context of OECD urban areas.
Viktor Roezer joined the project as a research officer in December 2018 focusing on the quantification of current and future flood impacts and incentives for pre-event flood resilience.
The research group is closely collaborating with the Alliance research partners International Institute for Applied Systems and Analysis (IIASA) and the Institute for Social and Environmental Transition-International (ISET), as well as engaging with the alliance's NGO partners Concern Worldwide, the International Federation of the Red Cross and Red Crescent Societies(IFRC), Mercy Corps, Plan International and Practical Action.
The Alliance strives to help de-risking communities from flood risk by providing evidence-based insight into understanding resilience and resilience decision-making. The main focus of the project is on pre-event risk reduction: We know that prevention is cost-effective, but nearly 87 percent of disaster-related spending on aid goes into emergency response, reconstruction and rehabilitation, and only 13 percent towards reducing and managing the risks before they become disasters. This Alliance report highlights the multiple benefits of investments on risk reduction and resilience, which can increase buy-in, acceptability, and overall support for resilience-enhancing measures.
In 2013, the Zurich Flood Resilience Alliance was initiated by Zurich Insurance (who is a full partner in the alliance) with funding from the Z Zurich Foundation for five year, until 2018. In December 2017, the Z Zurich Foundation and Zurich Insurance agreed to provide funding for a further five years (2018-2023). More information on phase I of the Alliance (2013-2018) can be found here.
For further information about the Alliance please go here: https://floodresilience.net/
The new project has been built on the Grantham Research Institute's earlier work on flood risk management and resilience under the ENHANCE project and Ireland's EPA.
Grantham Research Institute outputs with the Alliance project: