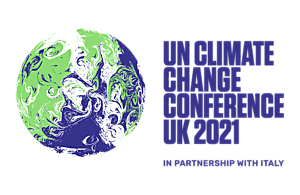 COP26 is short-hand for the 26th session of the Conference of the Parties to the United Nations Framework Convention on Climate Change (UNFCCC). It is due to take place in Glasgow, Scotland, between 1 and 12 November 2021. It was originally scheduled to take place in November 2020 but was postponed due to the COVID-19 pandemic.
The Conference of the Parties is the governing body of the UNFCCC, and is composed of Parties which have signed or ratified the Convention. Its sessions usually take place once a year.
COP26 is being co-hosted by the national governments of the UK and Italy. It is the fifth United Nations climate change summit to take place since the Paris Agreement emerged at the end of COP21 in Paris, France, on 12 December 2015. A 'Pre-COP' – the final official ministerial meeting ahead of the COP – will be held in Milan, Italy, from 30 September to 2 October 2021. The Pre-COP is an opportunity for informal discussion between selected countries on certain aspects of the subsequent negotiations.
According to the terms of the Paris Agreement, Parties should put forward before COP26 revised 'nationally determined contributions' (NDCs), containing details of climate change mitigation and adaptation actions in addition to those outlined in the 'intended nationally determined contributions' that they submitted to the UNFCCC ahead of COP21. The NDCs proffered in 2021 are expected to include targets for bigger reductions in emissions of greenhouse gas emissions with 2025 or 2030 targets. Strengthening these efforts over time is a requirement of the Paris Agreement as detailed in Article 4, paragraph 2.
Technical issues that are due to be discussed at COP26 include: carbon market mechanisms (an agreement on the rules to govern international carbon trading under the Paris Agreement); how to address 'Loss and Damage'; and the mobilisation of US$100 billion a year in climate finance to support climate action in developing countries.