Climate Change Laws of the World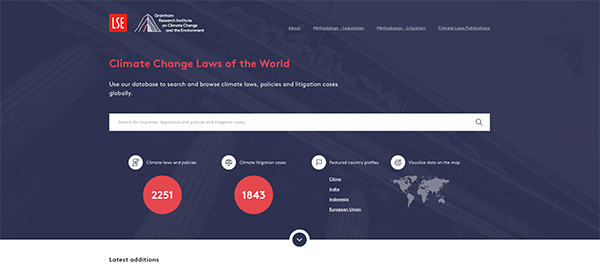 The Climate Change Laws of the World database is the most comprehensive global resource on climate litigation, climate legislation, and climate policy. To date we have identified over 2000 climate laws and policies at the national level in around 200 countries around the world. We also capture developments in climate change cases filed before courts and tribunals around the world, with over 450 cases from more than 50 national or international jurisdictions identified so far.
Laws and policies are included in the database if they set out a government's response to climate change or part of a government's response to climate change. This includes climate change framework laws, as well as sector or issue specific laws and policies, and laws and policies with specific provisions promoting decarbonisation and/or climate resilience. Only laws and policies with national application are included.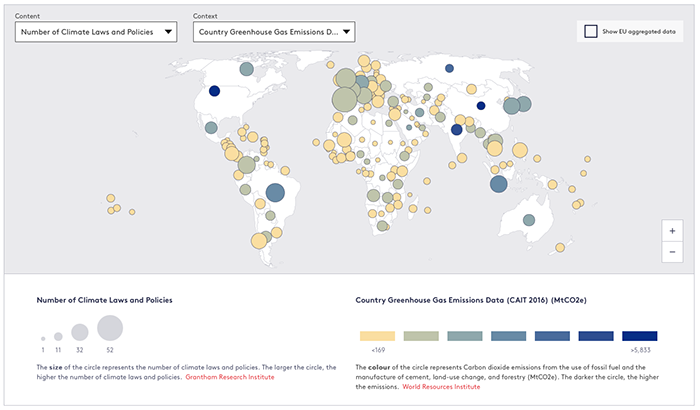 Legal cases are included in the database if they raise issues of law or fact regarding the science of climate change and/or climate change mitigation and adaptation policies or efforts before an administrative, judicial or other investigatory body. This dataset does not include cases from the United States, which are recorded separately. To access information about climate change litigation in the US, please click here to go to the Sabin Center / Arnold & Porter Kaye Scholer database. This will take you to a different website and will open in a new window.
The database, which is maintained by the Grantham Research Institute in partnership with the Sabin Center for Climate Change Law at Columbia University, originates from a collaboration between the Grantham Research Institute and GLOBE International on a series of Climate Legislation Studies which started in 2011. Building on more than a decade of research by the Grantham Research Institute at LSE and the Sabin Center, the database has now expanded to become a searchable and easy to access resource that is widely used by policy-makers, lawyers, researchers and others.
For further details on the data collection and categorisations used in Climate Change Laws of the World, visit the website.