The MSc in Philosophy & Public Policy provides a foundation in the conceptual and normative questions underlying public policy formulation and prepares students for policy-oriented careers in intergovernmental, governmental and non-governmental organisations as well as for PhD work in philosophy or related disciplines.
Start date:
27 September 2018
Duration:
12 months full-time, 24 months part-time
Minimum entry requirement:
2:1 degree
or equivalent
, with a considered interest in the areas covered by the MSc (see
entry requirements
)
English requirement:
Higher (see 
English requirements
).
GRE/GMAT requirement:
None
Fee level:
£20,904
Financial support:
Graduate Support Scheme (deadline 26 April 2018). Lakatos MSc Scholarship (up to £5000).
Application deadline:
None – rolling admissions, though we recommend that you apply early, ideally by February 2018
Further information:
Graduate Admissions Office's website
Contact:
Mary Wells
(Taught Programmes Manager)
Apply
What it's like
The LSE's distinctive approach to Philosophy & Public Policy is one in which philosophical analysis is continuous with the scientific study of political, social and economic problems. Students get a thorough background in moral and political theory, and learn to apply these tools to issues in public policy. The MSc also provides a foundation in evidence-based policy, which is now widely mandated at all levels of policy-making.
Your studies will benefit from the fantastic bustle of intellectual activity that makes LSE a particularly inspiring place for postgraduate studies. The department's event series is packed during the term, and includes a number of regular events relevant to your thinking about philosophy and public policy, such as the Choice Group and the Managing Severe Uncertainty project. And of course, the programme's location at LSE places you at the heart of a major centre for national and international public policy debates. The LSE Internships programme in Public Policy, Social Issues and Public Affairs offers the opportunity to get more hands on experience in your area of work.
The Philosophy and Public Policy degree coordinator, Dr Susanne Burri, specialises in normative ethics, political philosophy and the philosophy of economics. Her research interests include the ethics of war, decision-making under risk and uncertainty, and the philosophy of death.
You can find out more about Dr Burri's work on her website and in her recent article on the LSE Philosophy Blog.
What you'll do
This MSc approaches philosophical issues in public policy through the lenses of historical and contemporary developments in ethical theory and political philosophy. Topics span an enormous range of policy areas, such as health care, development, social security, climate change.
Students in this degree learn how to use results from the natural and social sciences in evaluating policy, studying policy and science policy topics like the nature of evidence, objectivity, and theory choice. You will also engage with many different approaches to the study of society such as rational, social and public choice, and with classic topics of political philosophy like democracy, liberal neutrality, equality, human rights, punishment and just war.
Please note that where Philosophy degree programmes permit "options", these must be selected from amongst courses at LSE. In general, only courses administered by LSE count towards our degree programmes.
This information is provided for guidance only. The definitive statement of all of the School's regulations can be found on the LSE Calendar.
For more information about courses, see the LSE Programme Description and the Official Programme Regulations.
Who is suited for this degree
The MSc in Philosophy & Public Policy is a competitive degree that draws students from all across the world. Our applicants come from a variety of backgrounds including philosophy, history, economics, sociology and political science. We consider applicants with good undergraduate degrees in any discipline, with a considered interest in the areas of study covered by the MSc.
The programme is excellent preparation for students interested in PhD work in philosophy, as well as for students aiming for policy-oriented careers in governmental, non-governmental or international organisations.
For information about entry requirements, see LSE's Entry Requirements page.
Further Information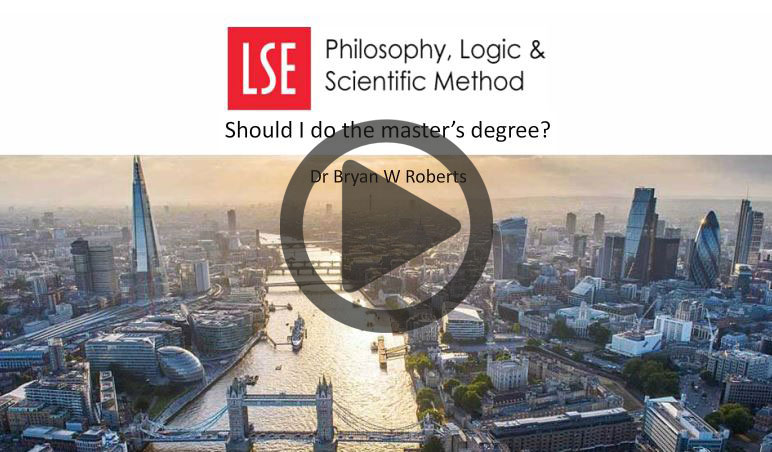 Find out more about our MSc Programmes in our new Graduate Webinar, presented by Dr Bryan W. Roberts.
Graduate destinations
Graduates from this programme have gone on to a variety of jobs and we try to stay in touch with our alumni through LinkedIn.
Funding
All applicants for this degree are eligible to be considered for the LSE Graduate Support Scheme.
As well as this, successful applicants to the Philosophy and Public Policy MSc programme are eligible to be considered for a Lakatos MSc Scholarship of up to £5000. The award of this scholarship is based upon the information contained in the application itself and all complete applications received by 24 April will automatically be considered. Both Home UK/EU and Overseas Students are eligible for this scholarship and the successful recipient(s) will be notified via email by the end of May.
There are a range of other options for funding your LSE Philosophy master's degree, these are summarised on our MSc Funding Opportunities page. For further information please visit the LSE Financial Support Office homepage.
Preparatory Reading and Booklist for Offer-Holders
A suggested booklist for offer-holders considering studying this degree is available on ReadingLists@LSE.
Application Process
Applications for our MSc degrees open around mid-October and usually close in late April. To improve your prospects, we encourage you to apply early in the application cycle. Further information about the application process is available on the Graduate Admissions website.