With LSE widely recognised as the world's leading specialist social science university, the MSc in Philosophy of Social Sciences is the ideal degree with which to pursue questions about human societies, and to apply philosophical reasoning to understanding the nature of the social sciences themselves.
Start date:
27 September 2018
Duration:
12 months full-time, 24 months part-time
Minimum entry requirement:
  2:1 degree
or equivalent
, with a considered interest in the area covered by the MSc (see
entry requirements
)
English requirement:
Higher (see 
English requirements
).
GRE/GMAT requirement:
None
Fee level:
UK/EU £13,536; overseas £20,904
Financial support:
Graduate Support Scheme (deadline 26 April 2018). Lakatos MSc Scholarship (up to £5000)
Application deadline:
None – rolling admissions
Further information:
Graduate Admissions Office's website
Contact:
Mary Wells
(Taught Programmes Manager)
Philosophy of the Social Sciences
Anthropology, economics, geography, political science, sociology – you already know what the social sciences are. But how do they work? What makes them special? There are clear senses in which they differ from some of the natural sciences, such as their extremely diverse set of methods and analytic techniques, but does this make the social sciences any less scientific or objective?
These are some of the general questions philosophers of social sciences sometimes tackle. But there are more specific questions as well: Do evolutionary explanations of social phenomena provide an accurate account of why societies are the way they are, or are such explanations merely unverifiable just-so stories? What relations exist among rationality, choice, action, and interpretation?
An MSc in Philosophy of Social Sciences at LSE provides an ideal environment in which to study these and other questions, either as a means of gaining deeper insight into the philosophical underpinnings of how we understand society, or as a world-class means of preparing for further academic study.

What It's Like
LSE consistently ranks the top programme in the world for the graduate study of philosophy of social sciences.
You'll get a chance not only to do your coursework with some of the world's top researchers in philosophy of the social sciences as well as some of the world's top social scientists themselves. You'll also be surrounded by the intellectual bustle that is so characteristic of LSE.
The department hosts a rich series of regular events of interest to philosophers of the social sciences. The British Society for the Philosophy of Science hosts their regular lecture series at LSE. In addition, you will have the opportunity to enjoy cutting edge lectures on philosophy of the social sciences from two popular lecture series, the Choice Group and the Managing Severe Uncertainty project.
Our students typically form a tight social group. The Department facilitates this by hosting a number of social occasions through the year. In addition, London has a wide range of opportunities for socialising, with a great many additional philosophical activities offered by the Institute of Philosophy and the University of London, enabling enterprising students to make contact with people from other universities.
The Economics and Philosophy degree coordinator, Professor Richard Bradley, specialises in Decision Theory, related fields such as formal epistemology and semantics, and the foundations of economic and social theory. He is also interested in the nature of intentional attitudes, belief and preference revision, and social value and choice. His new book, Decision Theory with a Human Face, will be published later this year.
You can find out more about Professor Bradley's work on his website and in his recent interview for the LSE Philosophy Blog.
What you'll do
LSE's distinctive approach to philosophy of the social sciences is both continuous with the sciences and socially relevant.
In our general and specialist courses the philosophical analysis is inseparably intertwined with science, and often directly motivated by problems in the sciences. At LSE, students learn to reason with philosophical rigour, but also have the chance to learn essential scientific tools such as modern logic and probability theory.
A typical student on this programme can expect to have, for each examined course, 20 hours of lectures and 30 hours of seminars from our world-class primary academic faculty, with a guarantee that no seminar will have more than 16 students. In addition, there is 30 hours of teaching on the dissertation research and writing seminar, plus plenty of one-on-one advising and discussion time with your lecturers during office hours.
Please note that where Philosophy degree programmes permit "options", these must be selected from amongst courses at LSE. In general, only courses administered by LSE count towards our degree programmes.
This information is provided for guidance only. The definitive statement of all of the School's regulations can be found on the LSE Calendar.
For more information about courses, see the LSE Programme Description Page and the Official Programme Regulations.
Who is suited for this degree
The MSc in Philosophy of the Social Sciences draws students from around the world. It is an ideal way to prepare for further PhD work in philosophy or a social science, and indeed a rare opportunity for students interested in academia to study with such a large number of philosophers of the social sciences. Many of our graduates thus go on to further study.
However, the rigorous analytic and scientific skills this programme provides are applicable in a range of high-level occupations, for employment in fields such as science journalism, science administration, public policy making, policy-making and medicine, in both governmental and non-governmental sectors. Strong applications that show a careful and considered interest in the fields of study for this degree stand the best chance of acceptance.
Further Information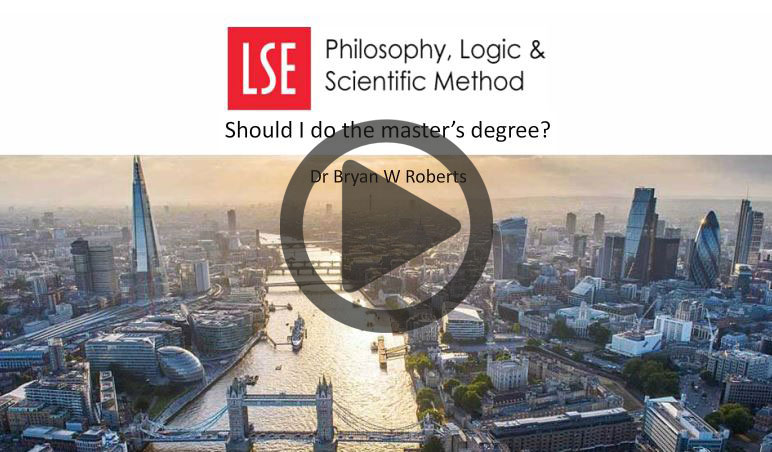 Find out more about our MSc Programmes in our new Graduate Webinar, presented by Dr Bryan W. Roberts.
Graduate destinations
Funding
All applicants for this degree are eligible to be considered for the LSE Graduate Support Scheme.
As well as this, successful applicants to the Philosophy of the Social Sciences MSc programme are eligible to be considered for a Lakatos MSc Scholarship of up to £5000. The award of this scholarship is based upon the information contained in the application itself and all complete applications received by 23 April will automatically be considered. Both Home UK/EU and Overseas Students are eligible for this scholarship and the successful recipient(s) will be notified via email by the end of May.
There are a range of other options for funding your LSE Philosophy master's degree, these are summarised on our MSc Funding Opportunities page. For further information please visit the LSE Financial Support Office homepage.
Preparatory Reading and Booklist for Offer-Holders
A suggested booklist for offer-holders considering studying this degree is available on ReadingLists@LSE.
Application Process
Applications for our MSc degrees open around mid-October and usually close in late April. To improve your prospects, we encourage you to apply early in the application cycle. Further information about the application process is available on the Graduate Admissions website.