The MSc in Economics & Philosophy is taught jointly by Economics and by Philosophy, Logic and Scientific Method, both internationally recognised as among the world's very best in their respective disciplines. This programme enjoys an extremely high graduate placement rate.
Start date:
August 2018 (for presessional course in Mathematics and Statistics)
Duration:
13 months full-time, 25 months part-time
Minimum entry requirement:
 First class honours degree
or equivalent
, with concentration on economics and quantitative subjects (see
entry requirements
)
English requirement:
Higher (see 
English requirements
).
GRE/GMAT requirement:
All graduates of non UK institutions must submit a GRE score
Fee level:
£20,904
Financial support:
Graduate Support Scheme (deadline 26 April 2018)
Application deadline:
None – rolling admissions
Note:
If your first language is not English, you must submit a writing sample of 5–10 typewritten pages
Further information:
Graduate Admissions Office's website
Contact:
Mary Wells
(Taught Programmes Manager)
What it's like
The MSc offers a unique combination of rigorous training in economics together with the opportunity to engage with moral, methodological and foundational questions. The philosophy offerings are wonderfully interdisciplinary. Just take a look at the range of options available to you! We take philosophical analysis to be continuous with scientific approaches to political, social and economic problems, and all philosophy staff have a strong background in interdisciplinary work and in areas of social or natural science.
Your studies will benefit from the fantastic bustle of intellectual activity that makes LSE a particularly inspiring place for postgraduate studies. The department's event series is packed during the term, and includes a number of regular events relevant to your thinking about economics and philosophy, such as the Choice Group and the Managing Severe Uncertainty project. And as an interdisciplinary student, you will have the entire wealth of economics events open to you as well.
What you'll do
The MSc in Economics & Philosophy gives you a chance to tackle a range of challenging foundational questions in economics and philosophy, such as:
What are the moral advantages and disadvantages of market institutions?
Can we make interpersonal comparisons of well-being, and if so, how should we do so?
How do models of economic phenomena relate to the actual social world?
What are the assumptions underlying the rational choice model in economics? Can they be normatively justified? Are they descriptively accurate?
You will also develop powerful analytic tools in both economics and philosophy through your programme's course requirements. This is a thirteen month, five-unit degree, one month longer and one unit larger than most LSE Master's degrees.
Courses to the value of two units from the list below.
Please note that where Philosophy degree programmes permit "options", these must be selected from amongst courses at LSE. In general, only courses administered by LSE count towards our degree programmes.
This information is provided for guidance only. The definitive statement of all of the School's regulations can be found on the LSE Calendar.
For more information about the course requirements, see the LSE Programme Description and the Official Programme Regulations.
Who is suited for this degree
The MSc in Economics & Philosophy draws students from around the world with strong quantitative backgrounds who wish to combine rigorous (further) training in economics with philosophical inquiry. The programme requires excellent analytical abilities, both in writing and in mathematics and statistics. The core MSc economics and econometrics courses assume a knowledge of constrained optimisation, matrix algebra and basic statistics. We expect students to have taken some essay-based subjects and to have covered micro- and macroeconomics and econometrics up to an intermediate level (exceptions can be made for students with strong quantitative training in. e.g. mathematics or physics; there is also the possibility of receiving an offer conditional on completing intermediate-level economics courses in the LSE Summer School).
These quantitative skills are required in order to successfully participate in the Economics courses. Applicants are therefore invited to highlight their quantitative background on the application. If you have a good background in economics or some quantitative discipline, as well as an interest in deep philosophical issues, then you stand an excellent chance of acceptance into the programme.
For information about entry requirements, see LSE's Entry Requirements page.
Further Information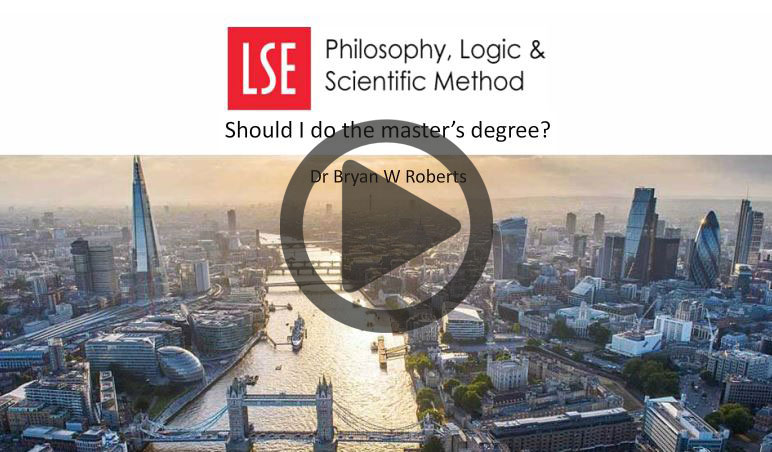 Find out more about our MSc Programmes in our new Graduate Webinar, presented by Dr Bryan W. Roberts.
Graduate Destinations
Funding
All applicants for this degree are eligible to be considered for the LSE Graduate Support Scheme.
There are a range of other options for funding your LSE Philosophy master's degree, these are summarised on our MSc Funding Opportunities page. For further information please visit the LSE Financial Support Office homepage.
Preparatory Reading and Booklist for Offer-Holders
A suggested booklist for offer-holders considering studying this degree is available on ReadingLists@LSE.
Application Process
Applications for our MSc degrees open around mid-October and usually close in late April. To improve your prospects, we encourage you to apply early in the application cycle. Further information about the application process is available on the Graduate Admissions website.